This summer, I started watching The Good Place. I'd started watching it when it came out, but then stopped for whatever reason. I decided to pick it back up, and while I was watching the second episode, Miles wandered into the room and sat down. And was hooked. By the third episode, all three were watching it (and had gone back to watch the first two.) Over the course of a few weeks, we binged all three seasons and were pretty obsessed. We even listen to the official podcast. Nerds.
I thought it'd be fun for the boys and I to dress up as characters from the show for Halloween, but you already know they declined to do that. I'm not sure why, honestly. They re-watch episodes constantly and we actually sit and watch the new episodes when they air. (Who does that anymore?!?)
But I still wanted to do it, and naturally with my hair I wanted to be Janet. (I hate wigs.) (And strapless dresses aren't my thing.)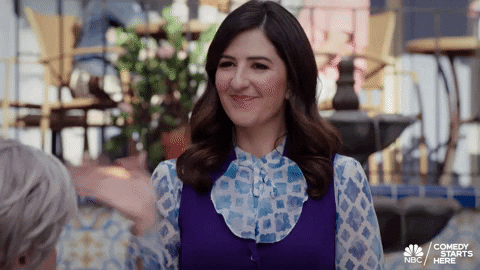 I thought briefly of buying a purple vest and skirt on Amazon but AS IF. Instead, I bought a few yards of purple scuba fabric. Obviously I was going to make it myself!
The skirt was easy. I figured I'd make a simple half circle skirt, but then I remembered I have the perfect pattern – the Linea skirt by Wardrobe By Me. That came together quickly, especially since I left out the pockets. I hemmed it using bias tape to give the bottom a little more body.
The vest was a little more challenging. At first I was just going to wing it and use a t-shirt pattern and just hack it, but then I came across this blog post from a woman who made a Janet costume and decided I needed to step it up a bit.
So I went to Joann's and bought a pattern since I couldn't find any suitable pdf patterns. I ended up getting Butterick 5359 which worked perfectly (view C.)
Well, I should have lengthened it some, because once I was done I had to pull the skirt up to my ribcage so that the top would be covered by the vest.
In any case, it was pretty easy. I couldn't find buttons in the correct color, so like the other blogger, I painted some that were close with purple nail polish, which cost me like 17 cents at Walgreens. Nice.
The last thing I tackled was the shirt. I had a plain white button down that I was never going to wear again, so I decided to paint the design on it instead of tracking down expensive fabric and sewing a shirt I'd never wear again.
My plan was to make a design of the stencil with my Silhouette and then paint it on the shirt with a mix of blue and purple fabric. In my head, it came out perfectly. In reality…well, I mean, it was a bit messier. Oh well! I also bought a little bit of white crepe fabric from the remnants bin, painted the design on that as well, and safety pinned it to the neck of the shirt for the ruffle. I mean, it wasn't exactly ruffly, but it worked well enough.
Before the neighborhood Halloween party Saturday night, I straightened and curled my hair (thank goodness it wasn't humid!) and put on some makeup and low heels and voila!
Some details:
I was pretty pleased that so many people at the party knew who I was dressed as. I mean, I did get a few "Violet Beauregarde?"s but not too many.
Next year…Bad Janet?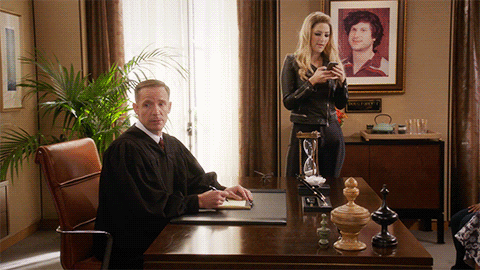 PS If you don't watch it yet, start at the beginning and watch!