This is fun….
1. A huge house. One story. With at least five bedrooms. No, make that six. One for each boy, one for us, and a few guest rooms. A big old playroom. A nice, gourmet kitchen with a living room right off of it. A windowless room for George, of course. And a big, huge garage with tons of storage space.
That's not too much to ask, is it? Hmmm….
Unfortunately, the only one in our neighborhood that fits the bill (kinda) and is in our price range looks like this:

Hmm. I had something more like this in mind…


(It's okay that it's two-story…it has an elevator.)
Anyone have a spare $6 million I can borrow? I'll pay you back, promise.
2. A slew of housekeepers, of course. That 14,000 sq ft house won't be easy to keep clean!
3. A private jet so I can visit friends, and send it to bring them to me, too.
4. Okay, this post is getting out of hand. Let's be a little more realistic, shall we? How about one of these:

(I mean, if I'm going to wish for a suitcase, it may as well be a $550 one, right?)
5.  How about three of these outfits for the boys? Dude. So cute. My little college professors.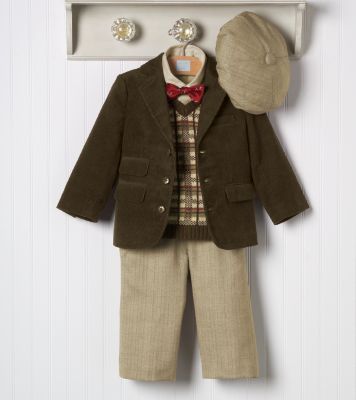 I know, I don't often dress them alike, but if I had three of these outfits, I would. And considering each set is $185, down to the little herringbone cap, I think I'd have to. To get the maximum impact. (Wow, I just realized that it'd be $555 to get three sets. Same as the fancy suitcase. I think I'll stick to the $30 suitcases and the $10 outfits for the boys, eh?)
Now, go forth and post on your own blog! (Click on the Wish List Wednesday graphic to get more details…)